With so many options available to a bride and, more often than not, to a groom with the now-popular groom's cake, here is what to look for and consider when planning a wedding or special occasion that requires a show-stopping cake.
Overall Look:
Whatever the theme or the overall look of your wedding, when creating your dream wedding cake the word of the day is CUSTOM. Do you have a particular color palette? Theme? What is the season of the wedding? What do you wish to convey when people look at the wedding cake, which will almost certainly be dead center in the room when your guests arrive? Is it an understated elegance in pure white? Swiss dot? Ribbons? Flowers? The possibilities are endless to customize your cake to your liking.
Flavors:
Most bakers will offer multiple flavors to accommodate the tastes of the bride and groom and, by extension, their guests. Our recommendation? Don't go with multiple flavors. Invariably, one of the flavors will run out first, and you might leave a guest disappointed. Choose one flavor that represents your taste and run with it. Again, your baker will undoubtedly offer stock flavors, but may also offer custom flavors such as carrot, red velvet and even banana. My personal favorite? The moistest chocolate cake I've ever tasted with vanilla butter cream icing. In a word…beyond!
Icings/Fondants: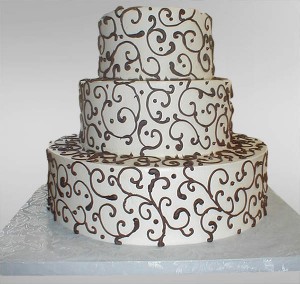 We only uses icings made with real butter. "There is nothing worse than biting into a cake and recognizing a vegetable shortening icing," she says. A bride typically can choose from butter cream icings in a variety of colors. On the other end of the spectrum is fondant. Fondant is a neutral-tasting substance that can be rolled out thinly to cover each layer of the cake and create a smooth, flawless surface. Luxurious in its appearance, fondant can be dyed any color you like and will keep the cake incredibly moist as it locks in the moisture. And underneath that flawless finish…a thin layer of butter cream. The possibilities for decorating on fondant are, of course, endless.
Flowers or Adornments: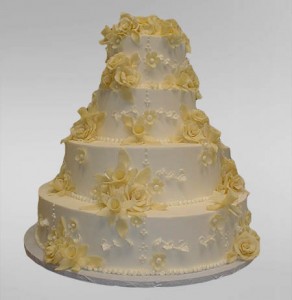 How to decorate? Real flowers? Molded, white chocolate flowers? Butter cream piped flowers? What to choose? Again, choices, choices, choices, means custom, custom, custom! Real flowers have the advantage of being able to have an exact match to the bride's bouquet, but alas, they are not edible. Molded white chocolate flowers have their advantage as well, in that they are edible — and delicious. The same goes with butter cream flowers. Whether it's matching the cake to your gown or decorations or flowers, an experienced wedding cake designer should know how to maximize the look within your price point. Start with the look you are trying to achieve, and back into it that way.
Price:
Speaking of price point, you should count on spending about $5.00 for a generous slice of wedding cake. 100 people? That's about $500 dollars for a dessert-quality cake chosen from dozens of flavor combinations. Couples usually consider that there will be other desserts at the wedding, and that being said, the cake can be made to serve the exact amount of guests present at the affair. A supporting player to the cake? How about some chocolate mousse, whipped cream or fresh fruit? More desserts, you ask? How about profiteroles, petit fours or an all-out Viennese table, which we can also provide with our popular miniatures and individuals, as well as a dazzling array of custom cakes.
Groom's cake: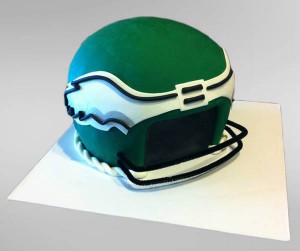 More and more, grooms are opting for a groom's cake since it was made famous in "Steel Magnolias." In the movie, the groom chooses a Red Velvet Groom's cake in the shape of an armadillo. Reptiles aside, the groom's cake can take on a variety of shapes and sizes. Baseball caps, pool tables, tee shirts, fishing themes, cars…whatever his mind can dream up, it can be made. Usually a supporting player to the wedding cake, these cakes are almost always a whimsically designed creation designed to honor the groom. Smaller in nature, here is the place to go with your second flavor!
Whatever your desire or budget, go to the wedding cake baker armed with pictures and ideas. In our case, we will schedule a tasting of various cakes and flavors and literally begin building your wedding cake from the serving platter up!
Above all, consider that the last thing your guests will have tasted before they leave the event is the cake. They may not remember the meal, but they always remember the cake…it is the final act in your special day…whatever your budget, an experienced cake designer will ensure it tastes and looks great.