From wedding cakes to cupcakes to birthday cakes, The Caketeria is an artisan bakery located in the center of Newtown, Pennsylvania. Using only the finest ingredients, we create wedding cakes that taste as fabulous as they look, birthday cakes that are oh so special and all types of celebration cakes from bar mitzvahs to sweet sixteens!
For those of you who just want a quick bite to satisfy your sweet tooth, come on in and taste the daily cupcake flavors. From chocolate cupcakes filled with caramel to Elvis' favorite combination of banana and peanut butter…..from Pineapple Coconut and back to Vanilla, The Caketeria's cupcakes are a step up from the rest.
Breast Cancer Awareness Month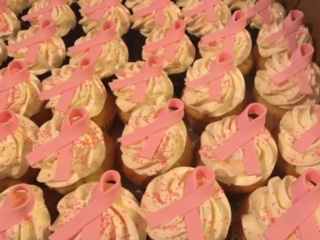 In honor of Breast Cancer Awareness Month, we are donating a portion of our sales of classic vanilla and chocolate cupcakes to breast cancer research for the month of October.